Straight 8
Client
Straight 8
One Super 8 Cartridge. No editing. No problem.
As well as designing the Super 8 camera and other iconic Braun products, Dieter Rams was also head designer of the Vitsoe furniture company. An early proponent of sustainability, he outlined his ten principles of good design. Championing a function-first ethos he believed in products being honest, lasting the test of time and being environmentally sound.
With Mr Rams and his catalogue of work to inspire the film, we went full circle by capturing him in our hometown of Leamington Spa on the very camera he inspired.
Due to the 'unique challenges' of the Straight 8 competition we would have to record audio separately. This meant taking a trip to Vitsoe's West London showroom and interviewing their planners who design tailored solutions to every customer. With a view to how they interpret the lifespan and place of his designs in today's world, our conversations evolved into the backbone of our storyline.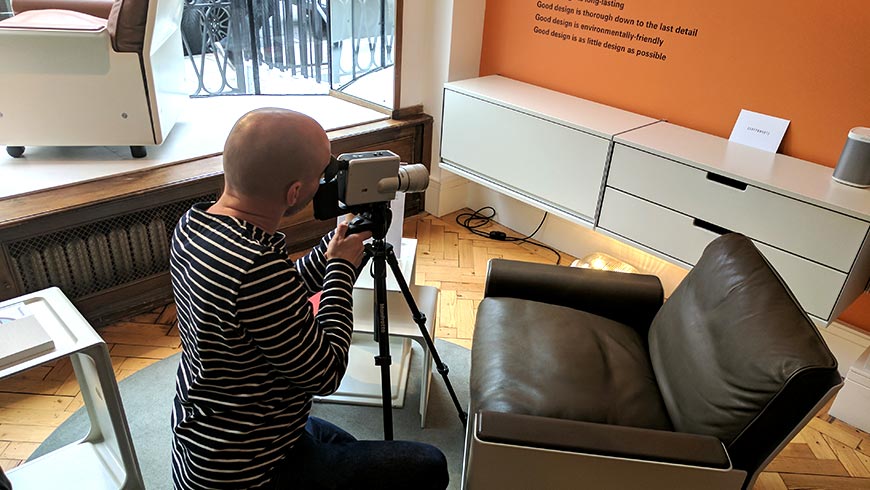 From here our job was to return, capture the film and then sync the two halves of our project as seamlessly as possible. Coupled with this we worked closely with our composer, establishing the tone of our film, assisting the weaving of audio and visuals.
At the time of writing, we don't know how our film turned out. We waved it goodbye when it dropped into the post-box. We'll be heading out to the Cannes big-screen debut to see if our ideas all made it on to film.
FIN.